Admin. Law Symposium
Is the Appointments Process Broken?
Insights from Practice, Process, and Theory
February 6, 2015
8:45 AM–4:30 PM
Duke University School of Law, Room 3041
You may register for the Duke Law Journal's Administrative Law Symposium here.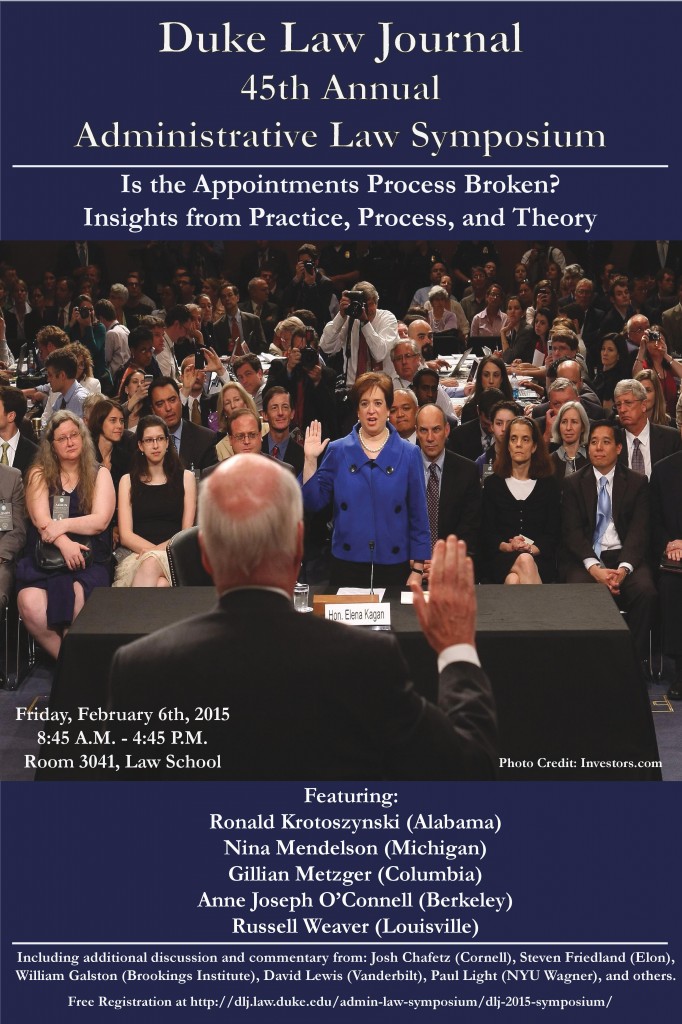 Agenda
Session 1 – Appointment Delays (moderated by John de Figueiredo, Duke)
9:30 – 10:15 "Shortening Vacancies" with Anne Joseph O'Connell & William Galston
10:15 – 11:00 "Effects of Senate Confirmation Delays in the Agencies" with Nina Mendelson & David Lewis
11:00 – 11:10 Break
11:10 – 11:45 Audience question and answer session
Session 2 – Appointment Politics (moderated by Marin Levy, Duke)
11:45 – 12:30 "'Advice and Consent' in Historical Perspective" with Russell Weaver & Steven Friedland
12:30 – 1:35  Lunch Break in Room 3000 (Burdman Lounge)
1:35 – 2:20 "Appointments, Innovation, and the Judicial-Political Divide" with Gillian Metzger & Stuart Benjamin
2:20 – 2:55 Audience question and answer session
2:55 – 3:05 Break
Session 3 – Recess Appointments (moderated by Curtis Bradley, Duke)
3:05 – 3:50 "Transcending Formalism and Functionalism in Separation of Powers Analysis: Reframing the Appointments Power After Noel Canning" with Ronald Krotoszynski & Josh Chafetz
3:50 – 4:10 Audience question and answer session
4:10 Closing Remarks (with Paul Light)
Description
Duke Law Journal's 45th Annual Administrative Law Symposium explores rising dysfunction within the federal appointments process. Among other topics, the symposium will cover the increased political polarization of the Senate confirmation process, recent rulemaking changes eliminating the use of the filibuster for executive branch nominations and most federal judicial appointees, and the formalist and functionalist readings at work in the Supreme Court's recent interpretation of the Recess Appointments Clause in NLRB v. Noel Canning.
The day will begin with a debate over the impact of long-unfilled vacancies on the federal appointments process, emphasizing the changes occasioned by the November, 2013 filibuster reform. This panel will feature papers by Professors Anne Joseph O'Connell (Berkeley Law) and Nina Mendelson (Michigan Law), with commentary by William Galston (The Brookings Institute) and David Lewis (Vanderbilt Law School). In Session 2, the focus shifts to the historical development of the appointments process and role that politics continues to play, some would say increasingly, in its evolution. Session 2 features papers by Professors Russell Weaver (Louis D. Brandeis School of Law) and Gillian Metzger (Columbia Law School), with commentary by Professors Steven Friedland (Elon Law) and Stuart Benjamin (Duke Law). In Session 3, the symposium will address the Supreme Court's 2014 Recess Appointments Clause decision in Noel Canning. Professor Ronald Krotoszynski (Alabama Law) will present his paper about the differing functionalist and formalist approaches of the justices, with commentary by Professor Josh Chafetz (Cornell Law School). Audience participation will be encouraged in each session.
Each session will be moderated by faculty members at Duke Law School. Professor John de Figueiredo will moderate the first session on "appointment delays"; Professor Marin Levy will moderate the second session on "appointment politics"; and Professor Curtis Bradley will moderate the third and final panel on "recess appointments."
---
Videos from previous Administrative Law Symposia can be found at the Duke Law Video Archive.
---